Obituary for Mario Anthony Cabello
June 15th, 1976 - March 5th, 2019

There are so many profound words that we could use to describe Mario, but if we had to choose just a few simple, yet, powerful terms to honor his memory, they would be loyal, generous, and unforgettable. If you were fortunate enough to meet Mario at one point in your life, you would quickly understand that he would make an everlasting impression on you. And with Mario, that feeling was always reciprocated. Mario had a gentle soul, and an uplifting presence. He was someone you would look forward to being around. His infectious laugh could shake the ground, and at the same time, fill the air with love and joy. Every moment shared with Mario was an unforgettable experience.

The depth of Mario's intellect was boundless. He was very knowledgeable on a wide array of topics. In many ways, you could say that Mario was self-educated. He loved reading and learning about everything. He enjoyed a good conversation with anyone and everyone.
Music was a strong influence in Mario's life. His connection with music was very intimate and expressive. You could always count on Mario to get the dance party started. He also had a fondness for nature. That was where he was truly in his element. He had the utmost appreciation for the purity of nature, and healing gifts that only nature could provide.

Mario has also been described as, "Truly one of a kind." He was a man with a heart of gold. His selfless generosity was extended to people from all walks of life. There are countless stories of how Mario helped people in their time of need with no questions asked, or no expectations of how he would be repaid because Mario was never consumed with material things. Those that knew Mario, knew that the most guiding force in his life was his love for God. Mario was a devout man of faith. No matter where his travels lead him, Mario always found a Catholic Church for his worship and loyalty to his faith. He was one of the original members of the Knights of Columbus at Our Lady of Guadalupe Church Council #16154. He was known for he powerful recitation of The Rosary, St. Michael the Archangel, and many other beautiful prayers.

Biography :

Mario Anthony Cabello was born on June 15th, 1976 at Marian Hospital in Santa Maria, Ca. His early education was spent at Mary Buren Elementary, and Kermit McKenzie Jr. High in Guadalupe, Ca. In the 4th grade at age 9, Mario won the Guadalupe District Spelling Bee. Mario's passion for wrestling began at 12 years old. He wrestled for the Guadalupe Wrestling Club with coach Johnny Martinez. Mario took to his new sport of wrestling as he did with every aspect of his life, with devotion, dedication, and focus. Shortly after the untimely passing of his father, Apolonio Cabello, Mario set out to win the State Championship Title in his father's honor. Following this victory, Mario continued to wrestle for Righetti High School where he took honors classes. Mario became the first ever homecoming king from Guadalupe in 1994, his graduating year. He was always so proud and loyal to his hometown of Guadalupe, and very honored to represent Guadalupe wherever he went.

During high school, Mario was so thrilled to get his first job at Guadalupe Hardware with his adored Uncle Manuel. That is where Mario picked up his love for working with tools. Mario began working in his trade of Welding and Fabricating. He was certified in Ornamental, Structural, and Bridge Welding. He worked in the welding industry for over 20 years, with the title of Journeyman Ironworker. He was a member of the Union Local #443.

Mario is survived by his mother Lenore "Noni" Macias ("Papa George") of Oxnard, Ca. His siblings, Apolonio G. Cabello (Norma) of Guadalupe, Ca., and Deanna Cabello-Holt of Oxnard, Ca., along with numerous aunts, uncles, cousins, nieces and nephews, and countless other family members, and friends who will love and miss him dearly. Mario is preceded in death by his father Apolonio O. Cabello, and his beloved maternal grandmother Nellie S. Ramos.

Mario lived his life to the fullest, intensely and fearless. Although Mario's
time here on earth was short, his enigmatic spirit is everlasting. He will always be with us.

There will be a viewing at 4:00 pm, Wednesday, March 13, 2019 followed by a Rosary at 5:00 pm at Our Lady of Guadalupe Catholic Church in Guadalupe, CA.
There will be a Mass at 10:00 am, Thursday, March 14, 2019 at Our Lady of Guadalupe Catholic Church.
Burial at Guadalupe Cemetery will follow.
To send flowers or a remembrance gift to the family of Mario Anthony Cabello, please visit our Tribute Store.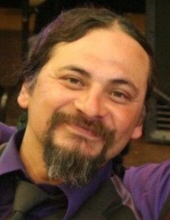 Thank you for sharing your
memory of Mario
Provide comfort by sending fresh
flowers from our local florist.
No thanks, please don't show me this again.