Obituary for Ygnacio Jack Mora Basoco Jr.
Ygnacio Jack Mora Basoco, Jr.
1930 - 2018

Ygnacio "Jack" Mora Basoco, Jr.
Jack Basoco-Loved and respected by all those he had touched.

On May 15, 2018, Ygnacio (Jack) Basoco of Santa Maria at the age of 87 peacefully took his last breath at home above the Bradley Aqueduct in Oak Knolls behind Clark Avenue in Orcutt, where he resided for the last 47 years. A modest home with a direct line view across the canyon to St. Louis DeMontfort, now a visual reminder of his beliefs that people are good and faith is strong.
He was born in an era deemed the greatest generation American society has ever produced, for him, specifically at the tail end of the Great Depression. Prior to graduating High School at San Bernardino County's Colton High School he was a prized professional boxer at the young age of 17, eventually facing professional opponents who were many years older than him. He fought not for fame or recognition but because it was an opportunity to earn extra money for bettering his situation while solely living with his grandmother.
Jack's professional stint in boxing cost him his amateur sports status and he was subsequently disqualified from Colton High School's football team, including dismissal from other year-round amateur sports he was a part of the team for in track and field athletic clubs, where he formerly held the shot-put distance record during his time of eligibility which stood for over a decade.
He was temporarily expelled from school by Principal Donald McIntosh for "settling it" with those who troubled him after bringing it to the attention of the school's administrators about his fighting professionally for money. He was contrite after the expulsion and later graduated without incident. It was a crucial time of earning mutual respect through an influential authority figure for him. Today the athletic gymnasium at his High School is memorialized and is named McIntosh Gym after his late Principal, who was also a soldier in a hospital unit in World War I before becoming a larger influence later at the school first as teacher then as the Principal.
Jack came of age during the post World War II era after he enlisted in the Army National Guard where he served overseas in Japan and Johnson Island prior to the Korean War. He then returned to Southern California after military service where he quickly became one of the well known community oriented guys who was always looking to uplift and motivate his friends back home in Colton. One of those friends was Wally Thomas, a physical fitness workout buddy of his at the body building gym who happened to be in charge of the annual production for all contestants in the Miss and Mr. San Bernardino Valley physique and beauty pageants held at the Perris Hill Bowl.
He also became fast friends with Colton High School graduate and Hollywood Actor Gene Evans who's family owned retail stores and clubs in the local community. One place Jack fondly recalled was Gene Evans' Diamond Club, where at the time all the great people of this era and cast-of-characters could be seen in their prime.
For Jack, old friends say this developed onto a situation where he learned to mainly carry himself in his prime, no matter what decade or phase of life he was in and no matter what obstacles life threw his way. From this point on, others also say it is where his destiny shined and is where he became a person to always give a needed word of encouragement to another, as in someone to lend a few words of advice to when the chips seemed a little down. Yes, the art of something sort of like a pep-talk or even a full-blown 30+ minute conversation. He was always willing even when he was tired, plus he was also a great listener.
He never once lost sight of his most coveted personal values in having a brave work ethic, in providing for others (family), and in the 'community' of other families he lived within and loved. If he was unavailable it was probably because he was constantly tending to the garden of these coveted principals through his living. Even when he was contacted by telephone at home, the answer was usually, "Jack's in the back working." His work ethic carried him through an Air Force Civil Service career at Norton Air Force Base and Vandenberg Air Force Base for a 42-year span of time prior to retirement, where at the end of his career he led multiple Air Force Logistics Crews in rocket, silo, and ballistic missile maintenance overhaul operations.
Those very close to the family intertwined through Orcutt Youth Sports and Righetti Gridiron Clubs of multiple generations still in the community recently said, "If you knew the man, there is no obituary required. It doesn't do justice." If you only knew of him or didn't know Jack, his intentions were from the goodness of his heart even when it was a situation where he was using a little intimidation to defend others who were not defending themselves in the most efficient manner. He will truly be missed and thought of often. His stories, so many others that weren't printed here, will still carry on. Definitely one more time 'together' when we share in the celebration of his life.
Jack is survived by his wife Belen Basoco and their two eldest sons Ernie and Larry; and Jack's four daughters Janie, Darlene, Cathy, and Deborah. Youngest son Anthony Basoco was with us until he was 27 in 2003. Funeral mass will be held this Thursday, May 24, 2018 at 10:00 A.M. at St. Louis DeMontfort Catholic Church in Santa Maria. Immediately following the Mass burial services will be held at Santa Maria Cemetery. A casual BBQ reception will then be held following the burial services at the local Masonic Family Center 700 Lakeview Road.
Visitations will be at the Dudley-Hoffman Mortuary Wednesday 4 to 7 P.M. Dudley-Hoffman Mortuary and Crematory is in charge of funeral arrangements.
To send flowers or a remembrance gift to the family of Ygnacio Jack Mora Basoco Jr., please visit our Tribute Store.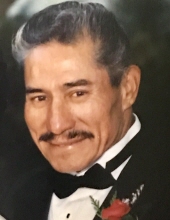 Thank you for sharing your
memory of Ygnacio
Provide comfort by sending fresh
flowers from our local florist.
No thanks, please don't show me this again.